Spectrophotometric Determination of Some pharmaceutical Preparation By Cloud Point Extraction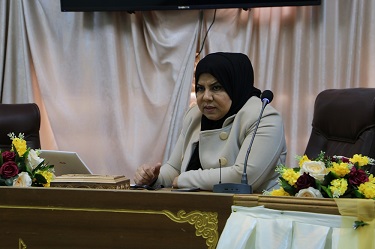 The department of chemistry at college of education of pure science held a scientific symposium entitled "Spectrophotometric Determination of Some pharmaceutical Preparation By Cloud Point Extraction" The presenters are Dr. lqbal Salman Mohammed
The aim of the symposium was
Cloud Point Extraction :
The pioneersin the establishment ofthe cloudpointextraction methodology date back to CPE to Watanabe and his colleagues who have recommended the application of this method through the use of non-ionic active substances such as Triton X-114 is a solvent used as an alternative to extraction.
There are many separation techniques that are characterized by good separation and although they meet the criteria of "green chemistry." and achieve great successes are not without defects, for example the use of toxic organic solvents, and the formation of secondary waste, some of which is restricted use with certain equipment or tools, in addition to it is relatively expensive, and takes a long time and other defects. So, in recent decades there has been growing interest in the use of cloud extraction (CPE).
Using surfactants as an alternative to toxic organic solvents. This was awarded for acceptance because of its simplicity and speed and being inexpensive, in addition to high selectivity and sensitivity . It is considered environmentally friendly and therefore represents the principles of "Green Chemistry" which has based on the tracks of reducing or eliminating pollutants that harm human health or environment